Event catering hire Budapest
Event catering hire Budapest is available for any events and weddings. We provide our catering service in Budapest and over Hungary as well as on Danube event boats. We provide corporate caterers, menus, food and beverages suit all event requirements. You can book our event catering service for corporate event, business event, gala dinner, banquet, conference, private event and wedding reception. Event catering hire Budapest including all catering equipment to any events, furniture, a large selection of chairs and tables, chair jackets, chair silks, table clothes and decoration upon request. We cover every events from small occasions to large corporate events, conferences or galas, with options for a range of budgets. We also ensure wedding catering hire for wedding receptions in Budapest and venues located outside of Budapest in as well.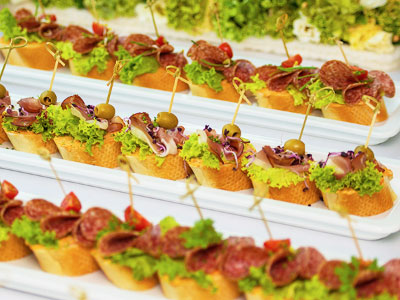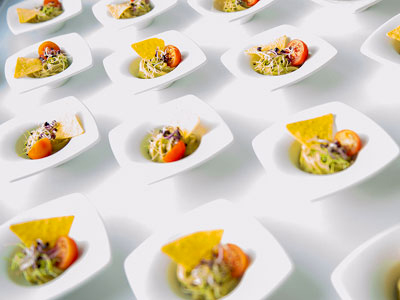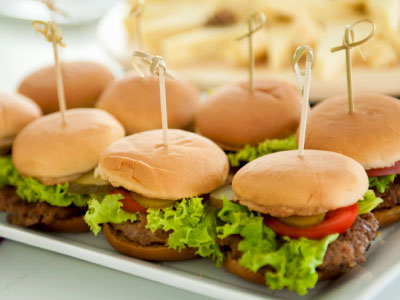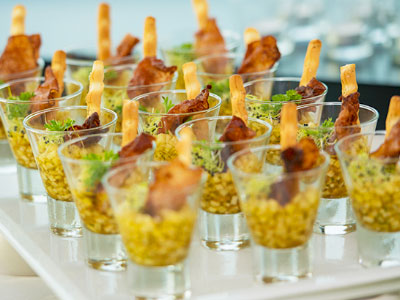 Catering hire Budapest includes buffet catering (smorgasbord) or plate service by your choice and beverages. You can choose from a variety of  food catering options: formal buffet, sit-down dinner, gala dinner, standing receptions with finger food, flying service, cocktail reception, grill party. Our creative chefs offer a selection of foods from international and Hungarian cuisine, as well as make free-from options, like gluten free and lactose free foods. We also provide Sushi bar, finger foods, cold plates, grill party, confectionery, chocolate fountain and cocktail bar upon request. We send our catering offer by email according to your event requirements.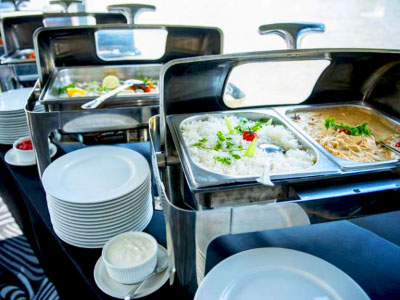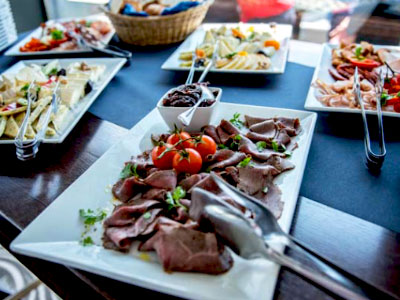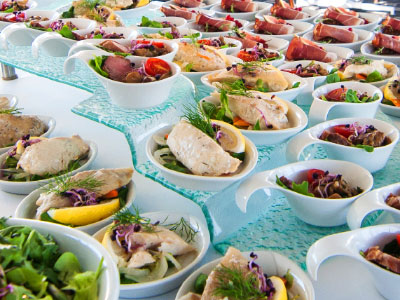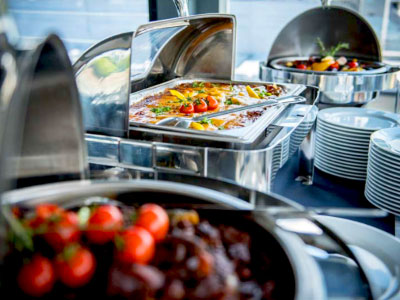 Catering service on event boats
Hire event catering Budapest to any Danube river cruise in Budapest and on the Danube sections outside Budapest. We provide our boat rental service with food and beverage catering to any events, wedding reception or Danube boat tours, Budapest sightseeing cruises. Danube event boats can accommodate a variety of events from small occasions to weddings and big corporate events with hundreds of guests. Boat catering Budapest includes everything on board form buffet style, finger foods to plate service and gala dinner. A multi-level ship can be hired for conferences, where the coffee break, lunch or dinner and the conference area can be arranged on two separate levels. Wedding receptions and ceremony also can be arranged, and we provide a special wedding menu on our river boats, depending on your requests.
Our Agency provides full event management to any event in Budapest and throughout Hungary, including audio-visual hire, artist management, music entertainers hire, photography-videography and hostess hire. We offer many party entertainers, artist performances, popular singers, WOW factor shows, party bands, background music entertainers, jazz bands and party DJs for hire. Catering service can be ordered to any event location, conference room, exclusive venue, party location in Budapest and over Hungary, as well as to Danube river boats and event boats in Budapest.
Catering hire service booking
If you are interested in our services and catering hire Budapest, please send us your requests by clicking on Contact menu. Please include the details of your event and information concerning the chosen service. Our Agency processes your request within 48 hours after receiving it, and will send our offer to your email address.
If you wish to book our catering hire service, please confirm your booking with final details by email. You can make your booking via email or in person at our office in Budapest. Personal customer service is available upon prior phone consultation setting an appointment. Booking also requires contract and deposit payment.
Our company provides several payment options: bank transfer, credit card payment (by online payment link) and cash payment  (including payment on site or in our office at Budapest). For more information about available payment methods, please click on Payment options.